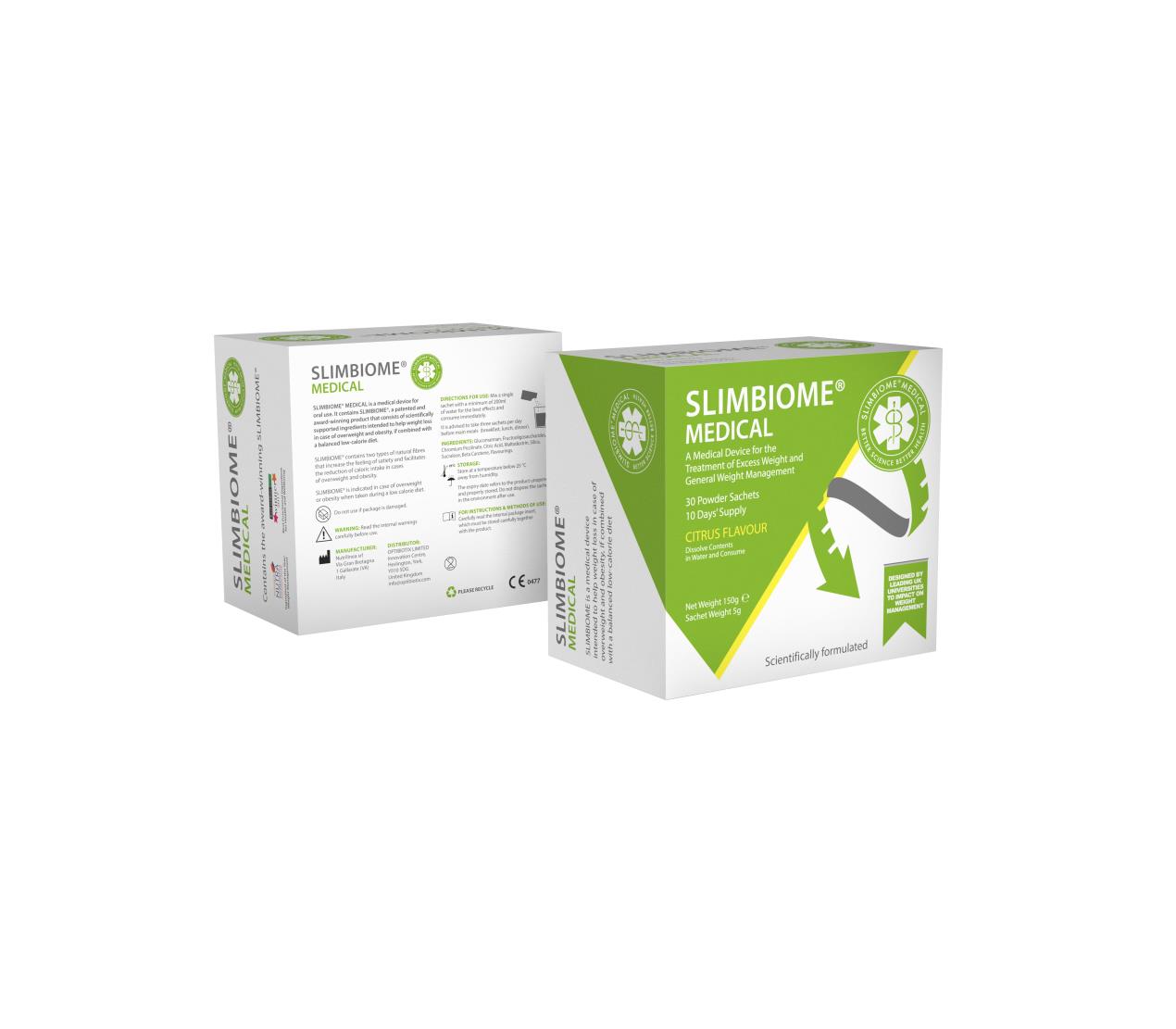 OptiBiotix Brings Weight Management Solution SlimBiome® Medical to UK Market
OptiBiotix Health Plc., a leading life sciences company focused on harnessing the power of human microbiome modulation to improve health and wellbeing, has announced the launch of its revolutionary weight management solution SlimBiome® Medical to the UK market.
SlimBiome Medical, which is a CE marked medical device, offers a healthy, hunger-free weight management solution designed for use by itself, or as part of a calorie-restricted diet, to reduce hunger and help users achieve sustainable weight loss.
Frederic Narbel, Managing Director, OptiBiotix Prebiotics division, said: "SlimBiome Medical is a revolutionary product transforming the way weight loss is traditionally approached as it delivers a sustainable, science-backed weight control system to offer dieters additional support to sustain and/or maintain weight loss. In addition, we are delighted to be able to bring this product to the UK market through our online store which is the shop window for OptiBiotix's own label products."
SlimBiome Medical will be available in boxes of 30 single dose sachets and for purchase from the OptiBiotix Online store (Optibiotix.online) from 29 April 2019.
SlimBiome Medical is a patented formulation made up of 3 active key ingredients backed by science for weight management, two of which (glucomannan and chromium) allow for European Food Safety Authority (EFSA) health claims. The third ingredient is a prebiotic fibre which enhances satiation and improves the diversity of the gut microbiome. A number of studies have shown enhanced microbiome diversity is associated with leanness. SlimBiome is backed by a growing body of independent human studies which demonstrate its effectiveness in helping users manage their weight.
Studies demonstrate how SlimBiome, either by itself or in food and beverage products containing SlimBiome, reduce a user's feeling of hunger, cravings for sweet and savoury food, and fat intake, leading to reduced calorie intake and weight reduction (on average 2-3lbs per week). These factors influence the amount and type of food consumed helping users modify their food choices to make healthier choices to manage and sustain their weight loss.
SlimBiome is an award-winning ingredient, having won 'Weight Management Ingredient of the Year' at the NutraIngredients Awards 2018 and 'Best Functional Ingredient for Health & Wellbeing' at Food Matters Live 2017. It contains a blend of non-digestible prebiotics and dietary fibres to create a longer-lasting feeling of fullness. The ingredient also helps burn calories by promoting a healthy metabolism and maintains blood sugar levels to prevent overeating.