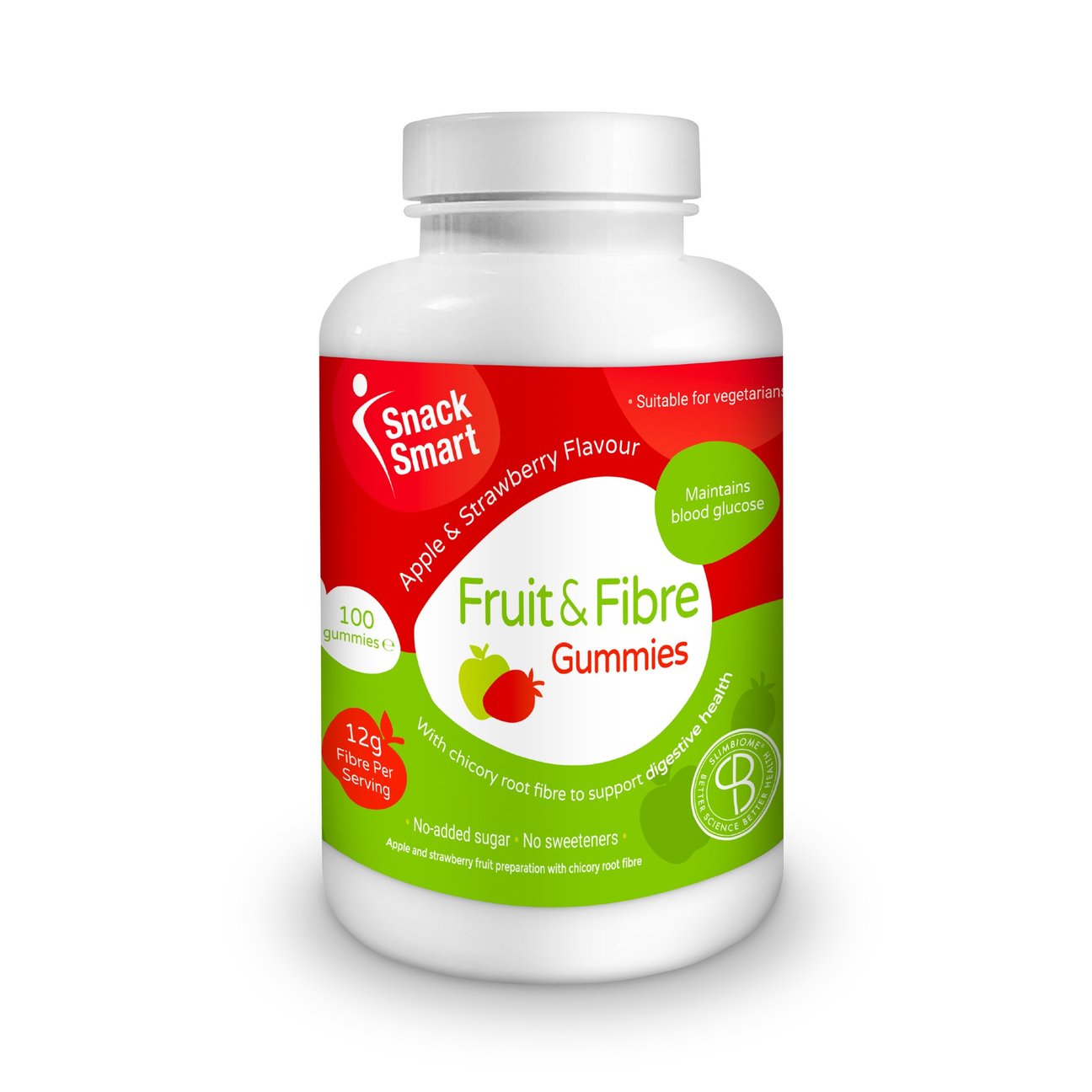 OptiBiotix launches SnackSmart High Fibre Gummies incorporating SlimBiome® weight management ingredient
OptiBiotix Health PLC ('OptiBiotix'), a leading developer of compounds to tackle obesity, cardiovascular disease and diabetes, has announced the launch of its new high fibre gummies featuring its proprietary SlimBiome® technology.
Available to purchase from the OptiBiotix Online store, SnackSmart Fruit & Fibre Gummies are part of a new range that focuses on offering healthy and functional snacks that provide digestive health and weight management benefits from the life sciences company.
The gummies, currently available in a delicious apple and strawberry flavour, contain several ingredients to help promote gut health and general wellbeing, as well as support weight management. Featuring no added sugar and more than 50% fruit, one serving – approximately 14 gummies – contains 40% (12 grams) of an adult's recommended daily intake of fibre.
Steven Riley, Head of Online Sales and Marketing at OptiBiotix, commented: "The launch of our SnackSmart functional food range comes at a timely moment for consumers. When keeping healthy is so crucial to our daily lives, it's important to ensure we are getting the right amount of nutrients to maintain our body's natural defences.
"Our new Fibre Gummies are a delicious and great way to keep consumers fuller for longer, thanks to the inclusion of SlimBiome technology. Backed by scientific principles, the weight management ingredient features a blend of non-digestible prebiotics, dietary fibres such as glucomannan, and a trace mineral, which synergistically work in combination to stimulate the growth of healthy bacteria in the gut. This approach not only aids consumers by helping them steer clear of eating unhealthy snacks, but also helps to regulate the body's insulin response to support an effective metabolic breakdown of carbohydrates and fats."
Alongside the blend of dietary fibres and prebiotics featured in SlimBiome, SnackSmart Fibre Gummies also contain chromium to maintain blood sugar levels and chicory root fibre to contribute to normal bowel function. The gummies are also suitable for vegetarians.
"As the first product in our SnackSmart range, fibre gummies are a no-fuss, easy and accessible solution for consumers who are looking to boost their health and manage their weight," said Steven. "With many consumers currently in isolation at home, it's now more important than ever to keep healthy – and we hope that our new Fibre Gummies offer a small contribution to making that easier."
The new range of SnackSmart functional foods complements the company's GoFigure weight management range, which includes meal replacement shakes, muesli pots and flapjacks.
Dr. Frederic Narbel, Managing Director of the Prebiotics division at OptiBiotix, said: "With consumers keen to stay healthy to combat today's challenges, the SnackSmart range opens up new branding opportunities for our partners across the globe. Backed by our proprietary weight management technology, SlimBiome, the gummies are a trusted and reliable product that offer additional support to partners, particularly during these extraordinary times."
To find out more about the new SnackSmart range, please visit optibiotix.online.