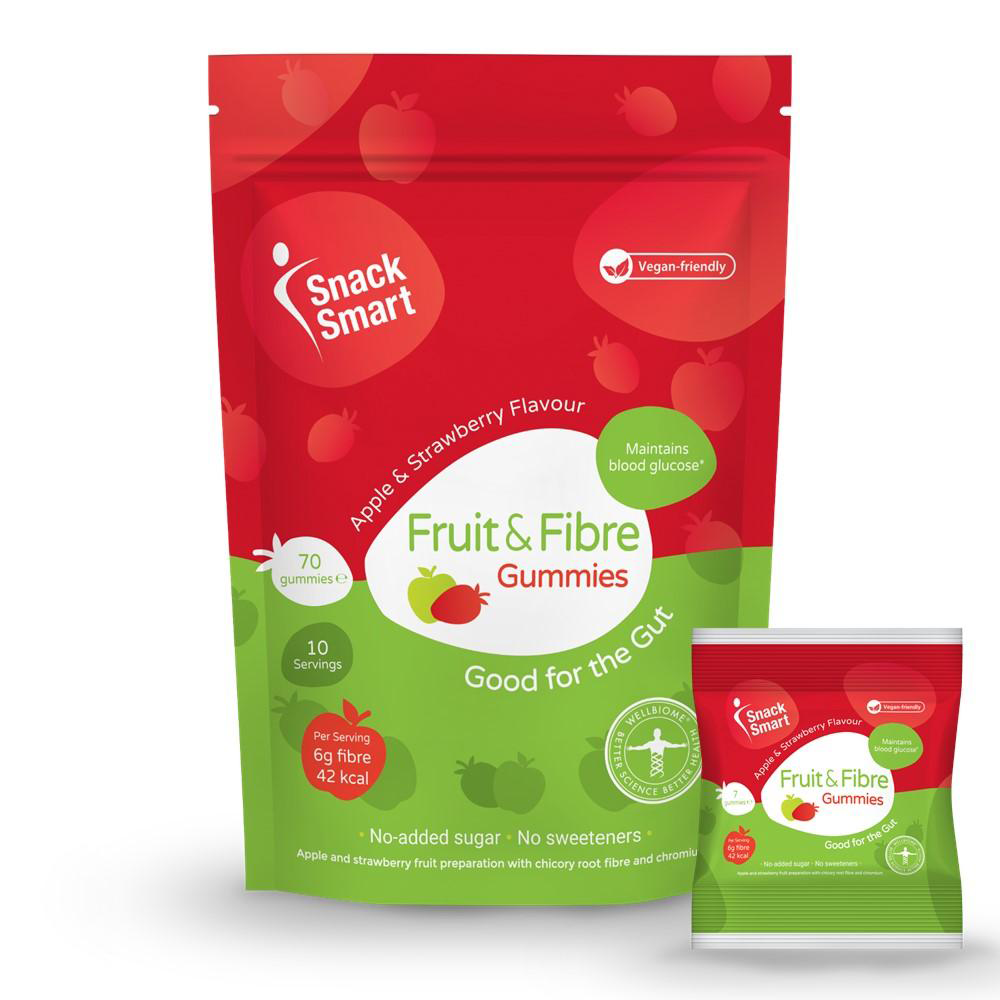 OptiBiotix targets healthy snacking market with launch of high fibre fruit gummies featuring WellBiome®
Pioneers in the creation of microbiome modulating compounds for use in the nutraceutical and pharmaceutical industry, OptiBiotix Health PLC ('OptiBiotix') has launched new fruit-based gummies with the functional fibre and mineral blend, WellBiome®. Available on its e-commerce store, the new gummies focus on offering consumers a great tasting yet healthy and functional snack.
The inclusion of the scientifically formulated and patented blend, WellBiome®, which was developed by leading UK universities and key opinion leaders on the microbiome, adds greater focus on boosting fibre intake whilst supporting overall health and wellbeing by promoting health positive bacteria diversity in the gut.
The launch is backed by recent evidence that suggests consumers are taking a much more mindful approach to their health. A global survey conducted in 2019 with 10,000 people indicated that 61% of respondents wanted to improve their overall health and wellness, with 37% looking to improve their digestive health1.
Steven Riley, Director of Marketing and Consumer Sales at OptiBiotix, said: "Snacking healthily, while getting plenty of fibre, has never been so easy with the latest launch for our SnackSmart brand. Formulated with our science-backed ingredient WellBiome®, one serving of the gummies provides 17.5% (6g) of an individual's recommended intake of fibre per day. This is based on UK government recommendations of 30g per day for adults. At only 42 calories per pack, they are perfect for snacking on the go."
To complement the on-the-go approach to snacking, the vegan-friendly apple and strawberry flavoured gummies are packaged in 10 miniature packs, with 7 gummies per serving. Contained within a larger pouch for storage, the miniature packs can be easily added to lunch boxes or bags to increase an individual's fibre intake any time or anywhere.
"With no added sugar or sweeteners, the gummies offer consumers an easy and convenient choice to complement their daily diet routine with a high fibre, healthy snack," continued Riley. "A diet rich in fibre can help support normal blood pressure and cholesterol levels, potentially reducing known risk factors of cardiovascular disease. Since the gummies contain WellBiome®, which is naturally high in prebiotic fibres, they also help to maintain a healthy digestive system and support regular bowel habits, alongside sustaining blood glucose levels."
The SnackSmart Fruit & Fibre gummies are the first consumer-facing product in the company's online store to contain WellBiome®. The ingredient, which features a blend of non-digestible prebiotics and dietary fibres, glucomannan and the trace mineral chromium, has demonstrated in controlled human studies that it is an effective way to support improved health and wellbeing in three primary areas: heart, metabolic and digestive health.
René Kamminga, CEO of OptiBiotix Health Ltd (a subsidiary of OptiBiotix Health Plc), said: "We developed WellBiome® as a direct response to the challenges consumers face today. Considering the recommended fibre intake is 30g per day, many consumer diets tend to fall short, especially in markets like the US and Western Europe. With SnackSmart Fruit & Fibre gummies, individuals no longer need to worry about failing to reach their recommended amount as they provide substantially more fibre than a single apple or banana. With health and wellness front of mind for many, we believe our gummies provide excellent support for those looking to achieve a healthier lifestyle."
The SnackSmart Fruit & Fibre Gummies are available to purchase from the OptiBiotix Online store from today. For more information, please visit optibiotix.online.
References:
1. FMCG Gurus, Active Nutrition Survey, 2019.