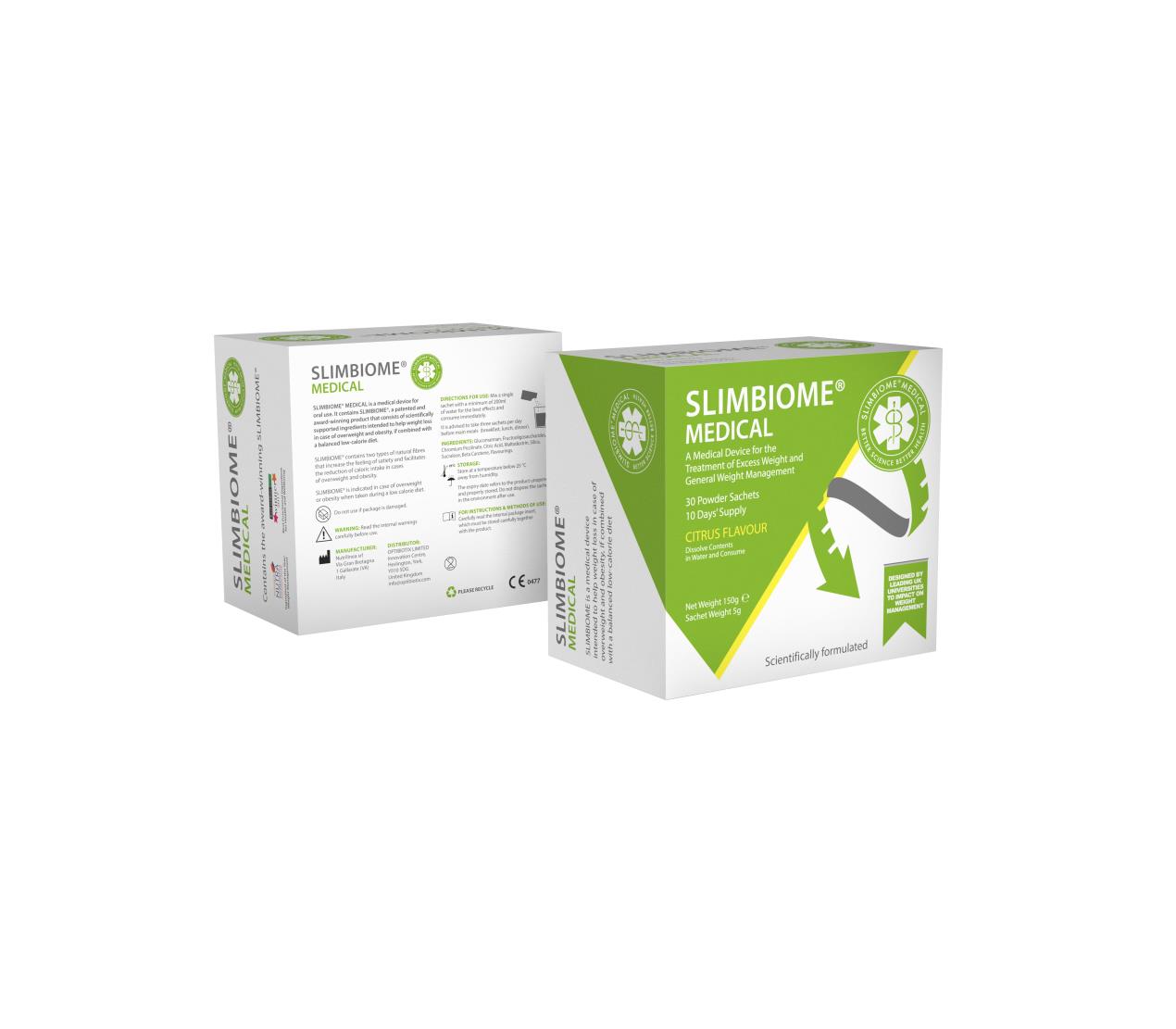 OptiBiotix to Launch SlimBiome® Medical at Vitafoods 2019
OptiBiotix Health Plc. (OptiBiotix), a life sciences business developing compounds to tackle obesity, high cholesterol and diabetes, is to commercially launch its revolutionary weight management solution SlimBiome® Medical to the European market at Vitafoods 2019 on May 7th.
SlimBiome® Medical, which is a CE marked medical device, offers a healthy, hunger-free weight management solution designed for use by itself, or as part of a calorie-restricted diet, to reduce hunger and help users achieve sustainable weight loss. Independent clinical studies show SlimBiome® reduces hunger, cravings for sweet and savoury foods, and fat intake.
This commercial launch follows on from the announcement that SlimBiome® was granted medical device status and a CE mark in November 2018, followed by the appointment of Nutrilinea S.R.L as a manufacturer and the signature of distribution agreements for Greece, Cyprus and Bulgaria as well as the launch of SlimBiome® Medical to the UK market.
Frederic Narbel, Managing Director, OptiBiotix Prebiotics division, said: "We are delighted to present SlimBiome® Medical to the EU market at Vitafoods as it is one of the largest annual nutraceutical events in Europe. The launch allows us to deliver on our sales strategy of building multiple revenue streams across multiple sales channels because it will help us expand our distribution and sales network in Europe and beyond and support recent distribution agreements we have established."
SlimBiome Medical is made up of 3 active key ingredients backed by science for weight management, two of which, glucomannan and chromium, allow for European Food Safety Authority (EFSA) health claims. The third ingredient is a prebiotic fibre which enhances satiation and improves the diversity of the gut microbiome. A number of studies have shown enhanced microbiome diversity is associated with leanness. SlimBiome is backed by a growing body of independent human studies which demonstrate its effectiveness in helping users manage their weight.
SlimBiome Medical is manufactured in Europe and will be available in boxes of 30 single dose sachets in pharmacies and major retailers. It will also be available for purchase from the OptiBiotix online store OptiBiotix.online from April 29th.
Taking place from May 07-09, 2019, Vitafoods Europe brings together nutraceutical expertise from across the globe to provide a robust platform for the industry to meet, talk, learn, discover and network with business leaders from more than 115 countries. This year's event will be held at Palexpo in Geneva, Switzerland. OptiBiotix will be exhibiting alongside Nutrilinea on stand B 20.