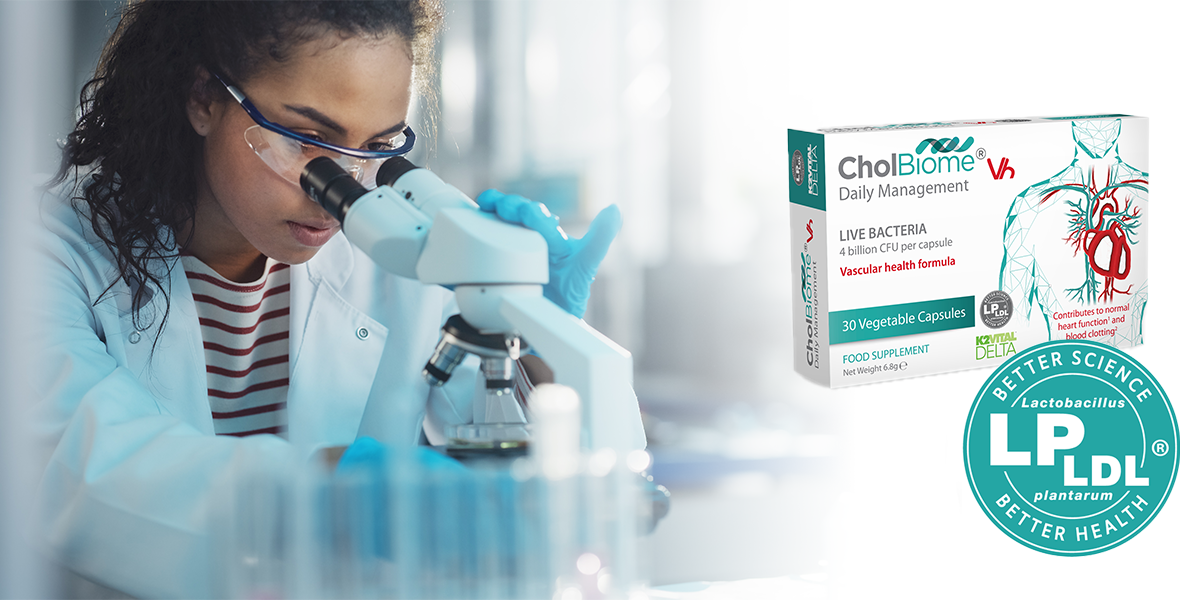 ProBiotix Health expands heart health range with CholBiome®VH
The formulation is designed to help combat atherosclerosis in adults using clinically studied, patented ingredients.
ProBiotix has developed a new finished formulation to advance heart health formulas for high end supplement and online brands in the nutraceutical market.
To support the reduction in vascular calcification and plaque formation (atherosclerosis) in arteries, ProBiotix has launched CholBiome®VH (Vascular Health). It combines three science-backed, natural ingredients to provide a multi-targeted mechanism for maintaining a healthy heart and circulatory system.
This unique solution harnesses the synergistic capabilities of two patented and scientifically supported ingredients, Lactobacillus plantarum LPLDL® from ProBiotix and K2VITAL® DELTA from Norwegian-based Kappa Bioscience AS. In addition, CholBiomeVH also contains Thiamine (Vitamin B1), which has a recognised EFSA health claim in that it 'contributes to the normal function of the heart'1.
Steen Andersen, CEO at ProBiotix, commented: "The British Heart Foundation reports that each year around 60 million people around the world develop a heart or circulatory disease2. To this day, cardiovascular disease (CVD) remains one of the world's biggest killers, with around 5 million men and 4.2 million women dying from coronary heart disease in 20193. With up to 85% of CVD deaths preventable4, ProBiotix is working with key opinion leaders, academics and industry professionals to help improve heart health worldwide through the CholBiome® range.
"As a result of our work in the industry, we are pleased to launch CholBiome®VH. This vegan, dairy-and-gluten-free food supplement contains three ingredients within a capsule with gastric acid protection technology. The first ingredient is our patented probiotic LPLDL®, which has clinically demonstrated efficacy to reduce total cholesterol by up to 34.6%, LDL cholesterol by 28.4% and apolipoprotein (ApoB) by 28.6%. High LDL cholesterol and ApoB are recognised key risk biomarkers that contribute to vascular plaque formation and the development of atherosclerosis5. The second is Thiamine to contribute to the normal function of the heart6, and finally K2VITAL® DELTA (Vitamin K2 MK-7) to contribute to normal blood coagulation7 and ensure superior bioavailability, quality and purity to support the reduction of vascular calcification and plaque formation (atherosclerosis)."
The inclusion of Vitamin K2, which is known to provide dual-action regulation of calcium in the human body to maintain calcium balance and good health, activates the enzyme Matrix Gla protein (MGP). This specifically protects our vascular system from the negative effects of calcium when out of balance such as in vascular calcification, where arterial plaque hardens and becomes more unstable, increasing the risk of thrombosis.
Previous studies, including a 2004 Rotterdam study, have demonstrated that Vitamin K2 can reduce CVD risk by as much as 50% through preventing arterial calcification and stiffening, and delivers a 25% reduction in all-cause mortality8.

When combined synergistically, LPLDL® and K2VITAL® DELTA work to reduce LDL cholesterol, apolipoprotein B and calcium deposits in the arteries to prevent the progression of vascular calcification and plaque formation. Together with Thiamine, CholBiome®VH provides a complete solution to vascular health.
Andersen concluded: "When every heart matters, ProBiotix is proud to be developing finished formulations that can support cardiovascular health. Today, as many as 2.6 million people in the UK have narrowing of arteries around the heart9, while in the US more than 40% of middle-aged adults with no known heart disease had signs of atherosclerosis10. CholBiome®VH is designed to reduce multiple key risk biomarkers that contribute to plaque formation, so that consumers can live healthier for longer."
CholBiome®VH is a finished supplement dosage format, which is available as a private label finished formulation. To find out more information on CholBiome®VH and the CholBiome® range visit its website at lpldl.com.

References
1,6. EFSA Journal 2009;7(9):1222
2,3. British Heart Foundation, Global Heart & Circulatory Diseases, June 2023
4. NHS England, 2019
5. Keleszade E., Kolida S., Costabile A., The cholesterol lowering efficacy of Lactobacillus plantarum ECGC 13110402 in hypercholesterolemic adults: a double-blind, randomized, placebo controlled, pilot human intervention study, J Functional Foods, 2022. https://doi.org/10.1016/j.jff.2022.104939
7. EFSA Journal 2009;7(9):1228
8. Geleijnse, J.M., et al., Dietary intake of menaquinone is associated with a reduced risk of coronary heart disease: the Rotterdam Study. J Nutr, 2004. 134(11): p. 3100-5
9. BHF, Research into atherosclerosis. Accessed 29th May 2023. https://www.bhf.org.uk/informationsupport/heart-matters-magazine/research/atherosclerosis
10. American Heart Association via Circulation, 2021