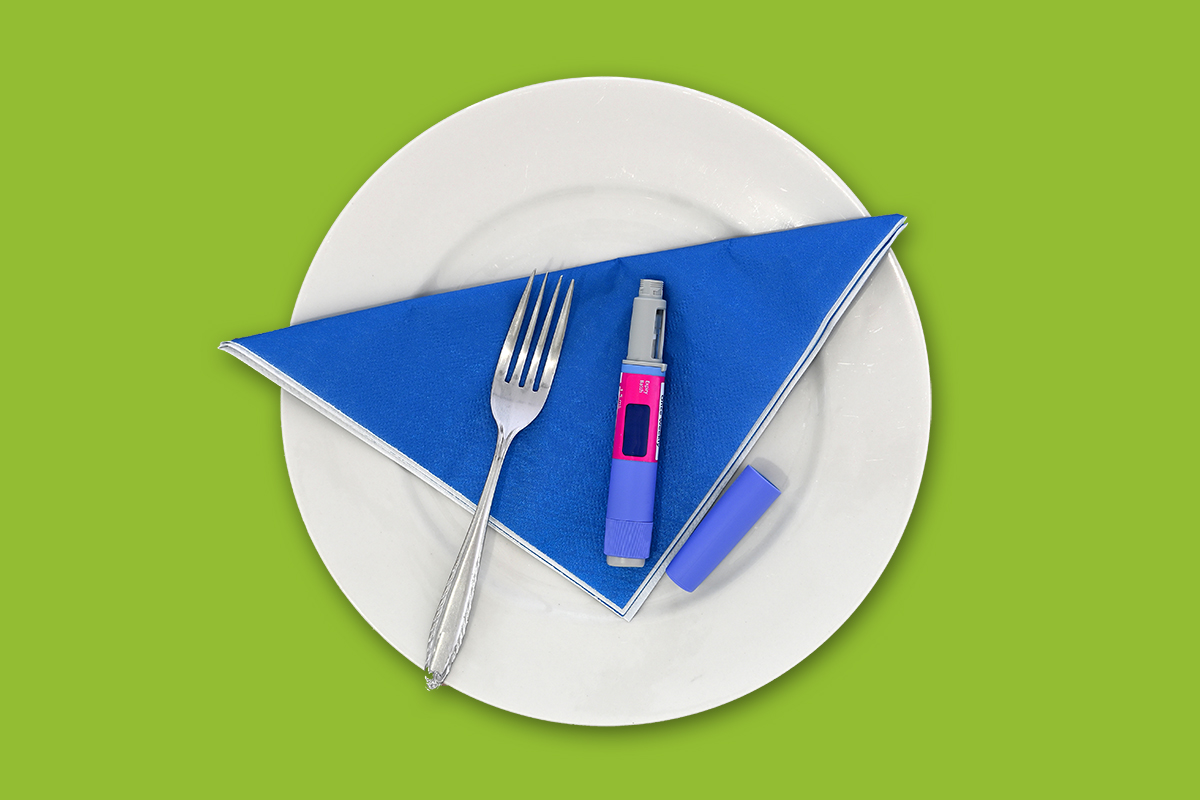 Injectable weight loss drugs: Are they the holy grail?
We've all been there. That sinking feeling as you stand on the scales and see that figure staring back, judging you for being 'bad' and eating all the wrong things this past week, month or year. It's time to do something, and quick. But as we know, quick fixes tend not to be sustainable, as OptiBiotix Health CEO Stephen O'Hara discusses in a podcast from HBW Insight.
Listen in to host David Ridley and Stephen talk about appetite suppression and if it really is the holy grail of weight loss; the new wave of injectable drugs; and how our award-winning SlimBiome® can help consumers to help themselves when it comes to weight management.
Strapped for time? We've got you covered with a rundown of all the best bits of the podcast, including timestamps below.
Weight loss drugs
Timestamp: 02.50 – 07.20

Manufactured by Novo Nordisk, Wegovy (semaglutide) is a weight loss drug that was approved by the U.S. Food and Drug Administration (FDA) in 2021 and the National Institute for Health and Care Excellence (NICE) in the UK in March 2023. It's recently hit national newspaper headlines due to its ability to reduce appetite and help people lose weight fast.
"It helps the body make insulin, reduces the amount of sugar that the liver makes, and slows down the digestion of food," says Stephen. "But most importantly, it reduces your appetite, so stops you feeling hungry when you are on a calorie-restricted diet. And it works – there are really good studies on this drug, and it's now becoming more accepted in the UK too."
While these drugs are great for weight loss, there are obvious risks to using an injectable, as well as side effects. If you'd like to know more about injectables, read our blog to see if it is the best 'shot' for weight loss.
Suppressing hunger with SlimBiome®
Timestamp: 07.40 – 12.35
Calorie-restricted diets are challenging at the best of times for consumers. Between sweet and savoury cravings, it can be difficult for them to stay on track. That is why suppressing hunger cues from the gut to the brain is so important in weight management. Like semaglutide, our patented weight management ingredient SlimBiome® works to suppress appetite but does so without the need to inject anything in the body, or with any known side effects.
"When you create a [weight loss] product, you are also trying to create a product that is healthy," explains Stephen. "The formulation we've created has around 27 patents and the ingredients have about 40 clinical studies in over 30,000 people, so there's a lot of evidence behind it."
Stephen also discusses the ingredients featured in SlimBiome (glucomannan, fructooligosaccharides and chromium), so that both consumers and health food brands alike can understand exactly how the solution works.
He adds: "Glucomannan is a fibre that expands in the stomach and makes you feel full, so it's a bit like having bariatric surgery, but in a more natural way. The other component chromium controls the glucose levels. And finally, FOS improves gut health… so you improve your overall health, losing weight and feeling healthier with it.
"We've actually carried out three clinical studies on SlimBiome because we wanted to know when we were adding these ingredients together were they additive, were they synergistic, or could they actually compete with each other? What we were able to show is that SlimBiome reduces hunger, it reduces appetite and leads to weight loss, particularly in reduction in fat around the waist and hips.
"Thousands of users all around the world take SlimBiome with no issues with side effects [and many] also improve their mood, while losing weight and feeling better."
Available for consumers on our e-commerce store, optibiotix.online, SlimBiome is incorporated into our GoFigure range of products and is also a CE registered medical device, SlimBiome Medical.
Evidence that weight loss solutions work
Timestamp: 17.04 – 23.26
Cutting through the noise of weight loss solutions is certainly a challenge for formulators and online health food brands. Today's consumers want evidence-based health claims and scientific studies that can prove these solutions do work.
At OptiBiotix, our consumers are the "ultimate study", as Stephen explains: "If you think about it, you are a consumer and have been subjected to all sorts of nonsense on the internet that can help you lose weight, so OptiBiotix have gone via the evidence-based route.
"The other part, which is often the most challenging, is brand awareness and information sharing – how do you get this out to consumers? You need publications and industry journalism that can cut through the noise and provide this evidence.
"If you look at these weight loss drugs and their impact on appetite regulation, they've stemmed a lot of interest. We started in the UK, took this product out there… then went into Europe, Australia, India and now we're focusing on America and Canada. Regulatory requirements could take between two months or two years. We're growing the business internationally… [and] increasingly we are working with partners to incorporate products into their end product line as a finished product."
SlimBiome is our answer to a more sustainable weight management product that can be incorporated into everyday life. If you are a health brand looking for the next weight loss solution for your product portfolio, talk to us today!
---