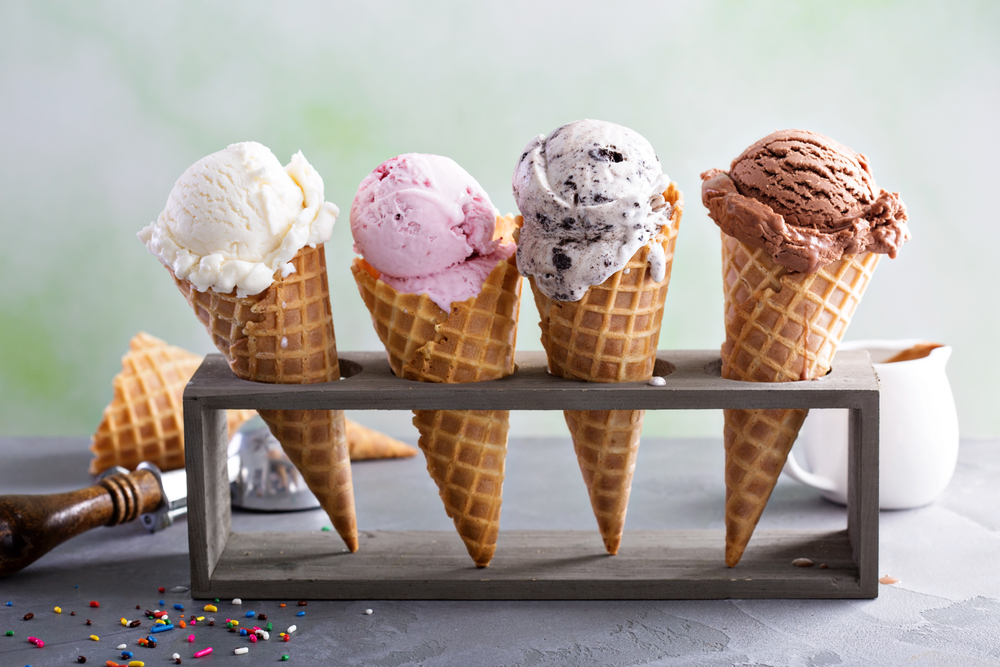 Can ice cream be good for the gut?
Once regarded as a purely seasonal indulgence, ice cream has evolved to an all-year snack. National Ice Cream Day, which is celebrated on July 18, 2021 in the USA, is one of the high points for all ice cream devotees, but as trends in healthfulness, mindful eating, and snackification continue to grow, traditional ice cream products are making way for innovative new product development.
Some of the biggest trends for this year include non-dairy ice cream which is booming with launch numbers at a CAGR of almost 30% over the 2016 to 2020 period. Non-dairy lines now account for 10% of all ice cream introductions. This rises to as much as one-quarter of all activity in North America and one-fifth of launches in Australasia.
Low sugar formulations are also gaining ground, reaching penetration of 6% of launches in 2020. The development of more natural sweeteners has attracted more attention to sugar reduction. Artificial sweeteners have steadily lost ground, and erythritol, stevia and monk fruit are now the top three choices in low sugar and sugar-free ice cream.
While consumers are making a concerted effort to adopt a healthier lifestyle, diseases such as obesity and cardiovascular disease are still on the rise. The combination of four healthy lifestyle factors – maintaining a healthy weight, exercising regularly, following a healthy diet, and not smoking – seem to be associated with as much as an 80% reduction in the risk of developing the most common and deadly chronic diseases. This reinforces the current public health recommendations for the observance of healthy lifestyle habits, and because the roots of these habits often originate during the formative stages of life, it is especially important to start early in teaching important lessons concerning healthy living, including ditching junk food habits and replacing them with healthier food options.1
Clean label development ensures that consumers are aware of what they are eating and one way to simplify things for the consumer is shorter and simpler ingredient lists. "Some brands have even flagged the number of ingredients, or indeed the full ingredient list, on their packaging," Lu Ann Williams, Director of Innovation at Innova Market Insights2 points out.
In this highly competitive space, the ability to formulate better products is critical to making your product stand out from all the noise. The latest innovation from OptiBiotix, WellBiome®, is a revolutionary functional fibre and mineral blend, specifically targeted for the health and wellbeing market and those brand owners that want to start formulating products using functional ingredients.
WellBiome has been formulated by leading UK universities and industry leaders to support the growth of beneficial bacteria and improve overall wellbeing in consumers. The lactose and gluten-free ingredients found in WellBiome work in synergy: It harnesses the health positive bacteria found in the gut microbiome to deliver real benefits in digestive, heart and metabolic health. Another plus is that the product is also suitable for vegans.
René Kamminga, CEO of the Functional Fibres Division at OptiBiotix explains, "As consumer awareness of the gut microbiome increases, products that contain functional fibres that support health and wellbeing are becoming popular. With the microbiome modulating WellBiome, our partners can now extend their reach into the exciting health and wellbeing market with a science-backed offering."
Having demonstrated its efficacy in controlled human studies, new product developers using WellBiome can ensure that their final product supports improved health and wellbeing by maintaining a healthy digestive system and supporting regular bowel habits by significantly increasing essential bacteria – including the Bifidobacterium, Bacteroides and Christensenella strains.
Scientific studies further demonstrate that WellBiome can regulate glycaemic response to support metabolic health and significantly reduce systolic blood pressure. The revolutionary ingredient is also supported by several EFSA health claims, including the use of chromium which contributes to the maintenance of normal blood glucose levels and glucomannan which helps the maintenance of normal blood cholesterol.
WellBiome has a high fibre content of 94% and consists of functional prebiotic fibres (fructooligosaccharides), which are a favourite nutrient source for the billions of health positive probiotic bacteria (for example bifidobacteria and lactobacilli) living in the human gut and functional dietary fibres (glucomannan). The latter enhances the activity of bacterial groups (Bacteroides, Christensenella) that produce bioactive molecules such as propionate and butyrate. These molecules play an essential role in gut health immunomodulation. They work together with acetate to regulate appetite, lipid and carbohydrate metabolism.
Finally, chromium, a trace mineral essential for human health, supports enzymes that are key in carbohydrate, lipid and protein metabolism. It also regulates insulin action which can influence the breakdown of carbohydrates and fats and has the ability to amplify the action of insulin, improve insulin resistance and maintain blood glucose levels.
With consumers actively seeking healthier alternatives to indulgent favourites and a focus on gut health on the rise, it's important to be one step ahead when it comes to introducing new functional ingredients to the ice-cream mix. Contact OptiBiotix or Agropur as our official distributor for USA requirements for information on how to develop an ice-cream that comes packed with fibre and functionality.